Skip to product information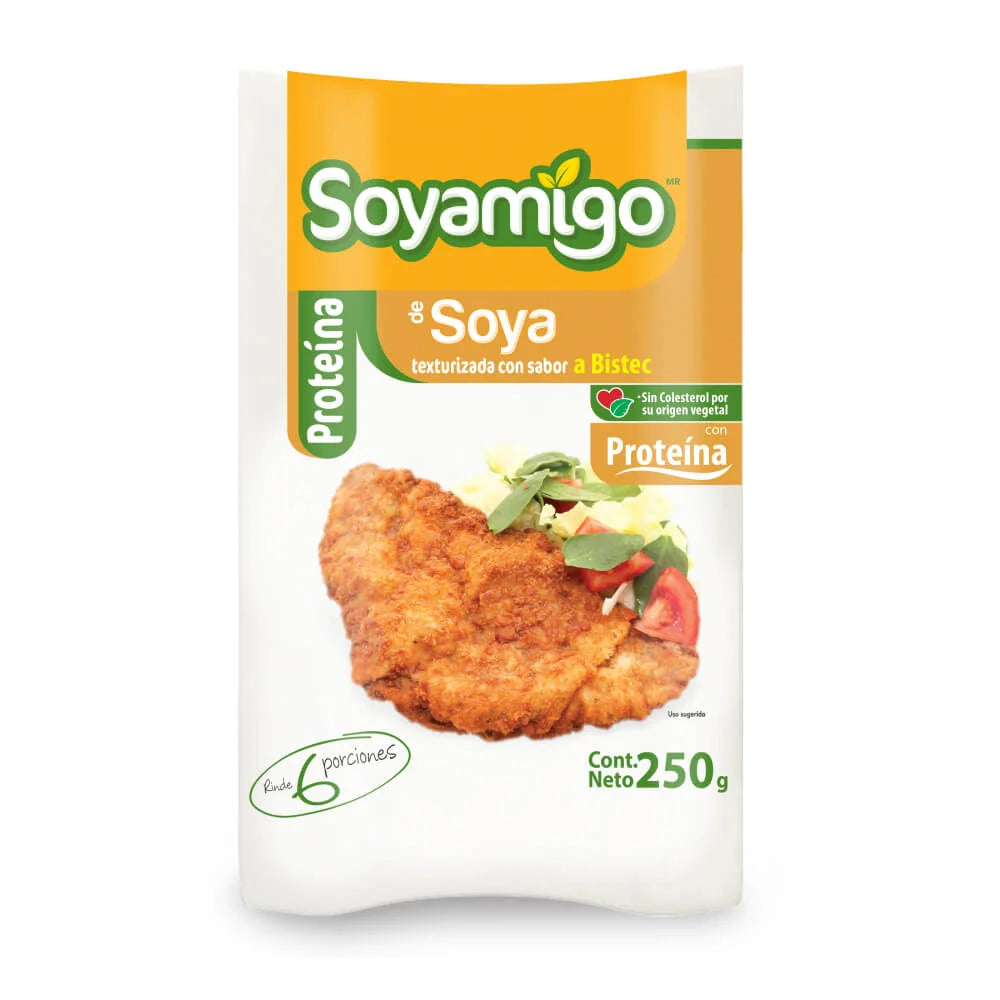 Open media 1 in gallery view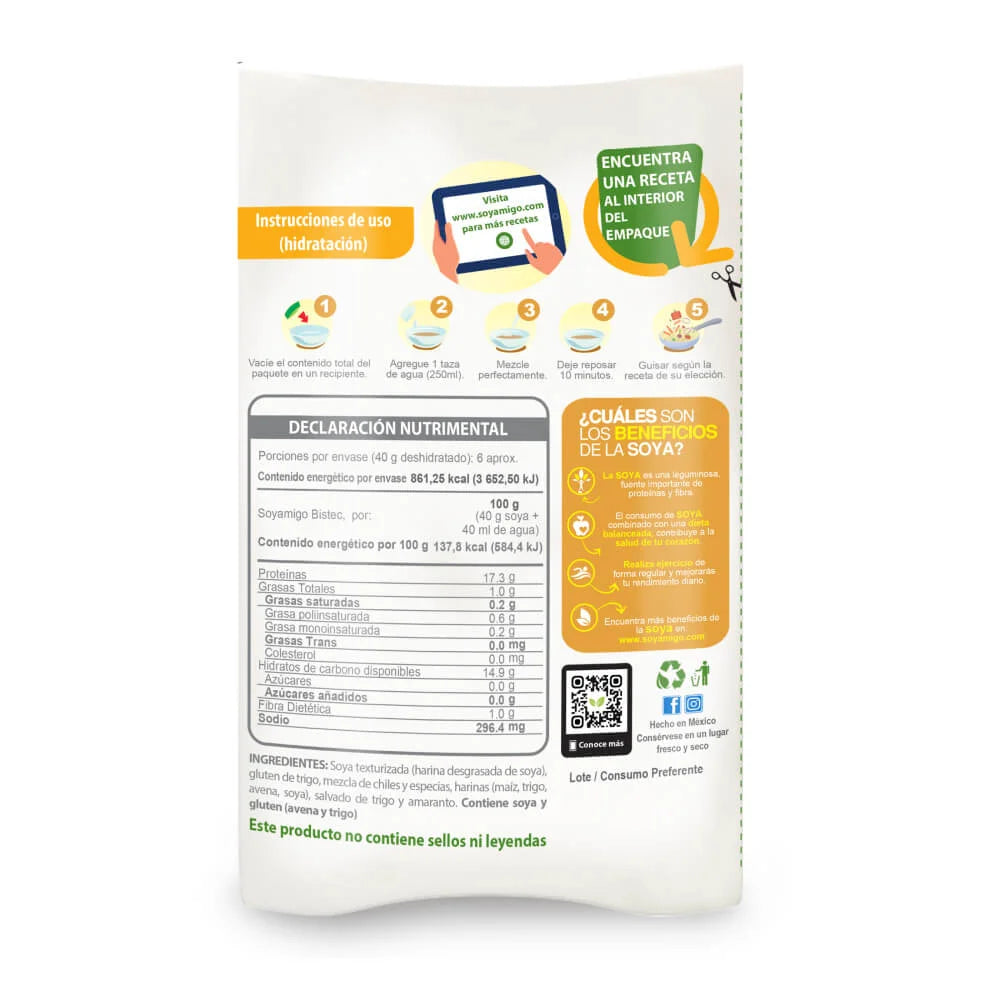 Open media 2 in gallery view
Open media 3 in gallery view
Open media 4 in gallery view
Open media 5 in gallery view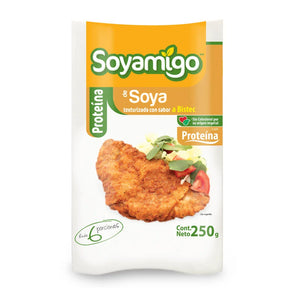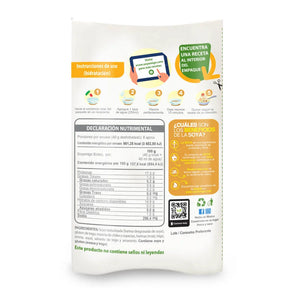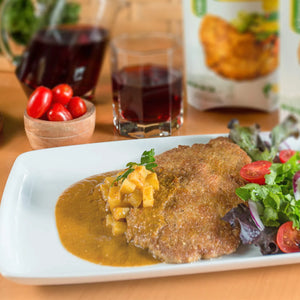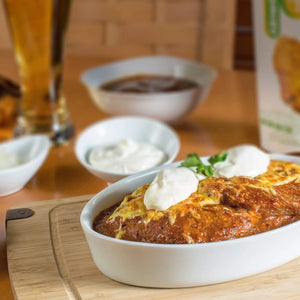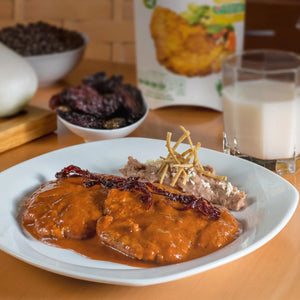 Descripción
Additional info
Reviews
Descripción
Additional info
Reviews
Soyamigo Steak 250 g

Dehydrated food ready to prepare based on textured soy flavored steak / milanesa (beef).

Profits:


Quick and easy to cook, delicious natural flavors with

 variety of recipes.
Serves 6 once prepared.

Ideal for the whole family.

High 100% vegetable protein, contains fiber, free of saturated fat, low in sodium.

Natural ingredients, spices and seasonings. 

Without animal meat, without cholesterol, without preservatives, without colorants, without hormones, without trans fats.

It does not contain stamps.


At Soyamigo we bring the benefits of this little seed to your palate with a delicious flavor. To incorporate into the diet: VEGETAL PROTEIN, FREE OF SATURATED FATS, RICH IN FIBER, with vitamins and minerals. These nutrients can help lower cholesterol levels and therefore prevent heart problems. In addition to helping in cases of obesity and diabetes, thanks to its LOW GLYCEMIC INDEX.


Nutritional information

Preparation

In a container, mix the contents of the package perfectly with 1 cup of water (250 ml), let it rest for 10 min, stir until it forms a dough and knead on the table until it is uniform. (If you like you can add 250 g of ground beef).

For ideas of dishes you can visit the section of Soyamigo steak flavor recipes.


 
Sorprendente
Hice la receta de milanesa [con harina de garbanzo en lugar de huevo] y estoy sorprendida con el resultado. La textura es impresionante y fue muy sencillo hacerlas [Las hice todas de una vez y las refrigeré para la semana]. Creo que el sabor podría ser todavía mejor pero aún así están muy bien, especialmente cuando se le agregan condimentos como ketchup.
Recomiendo, al momento de aplanar, hacerlas más bien delgadas para que sean más convincentes como sustituto de carne.
Estoy esperando con emoción probar el resto de productos que he ordenado.
Sabor
Soy vegetariana. Está muy bien tener la posibilidad de comer un alimento rico en proteínas con sabores variados que no le envidian nada a los originales y que se puede guisar de distintas maneras. Está muy bien que la tienda haya dado la opción de elegir los sabores y la cantidad que uno quiere en vez de ofrecer paquetes establecidos. Llega en buen tiempo y muy bien empacado.
Consejos preparación
Hidraté el polvo y me quedó una masa no propicia para cocinar, porque se pega en la olla. Pensé que venía en verdaderas hojuelas y no en polvo... qué hice mal?. Asimismo, en el paquete dice que hay que agregarle el sobre del condimento.. ¿Cuál sobre? no viene nada, solo la bolsa principal con el polvo. Muchas gracias.
Muy rico
Me gustó mucho, todos sus productos son buenos
Obtén grandes promociones
y descuentos
Suscríbete para recibirlos