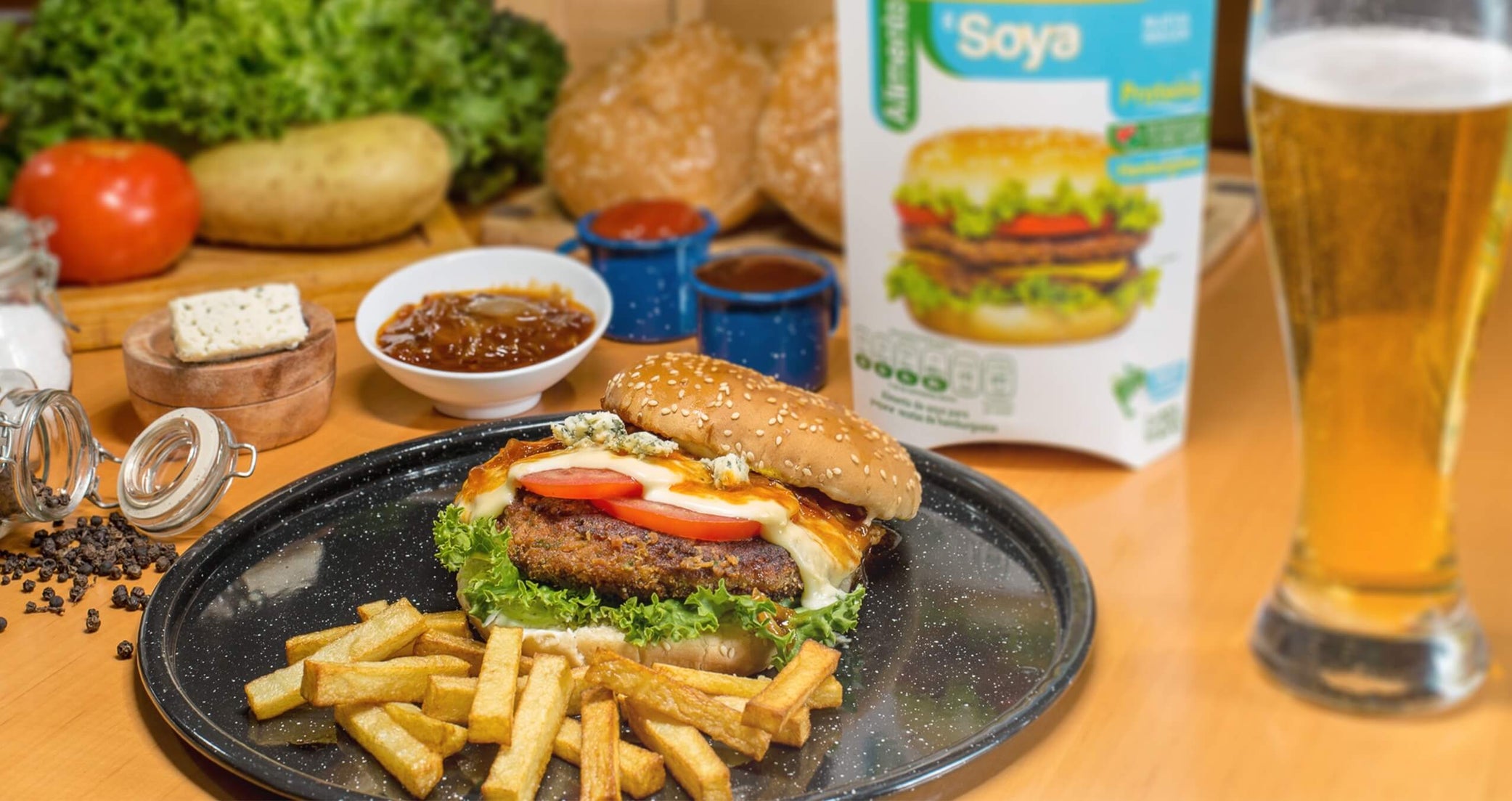 With Soyamigo Burger flavor you can prepare delicious recipes such as a BBQ Burger, Chipotle Meatballs, a Viennese Asado, among other delicious dishes; turn the meal of every day into a healthy, healthy and tasty food for you and your family.
It is necessary to buy the necessary ingredients for the preparation of each dish such as onion, chili, tomato, oil, among others.
---
1 Soyamigo Burger flavor
1 medium onion finely chopped
½ Cup of ground bread
¼ cup all-purpose flour
1 Tbsp. dried parsley
1 Cdta. chili powder
1 Tbsp. mustard
2 Tbsp. Worcestershire sauce
2 garlic finely chopped
Salt and pepper
5 Eggs
For the hamburger
4 Tbsp. of oil
250 g Emmental, Gruyere or Gouda cheese
1 onion, sliced
200 ml BBQ sauce
1 Tbsp. of sugar
1 lettuce
Mayonnaise
mustard
1 ball tomato
100 ml cream
Salt and pepper
Hamburger buns
Preparation
In a container, pour Soyamigo Hamburger flavor hydrated (as indicated on the back of the package); Add the eggs, breadcrumbs, flour, onion, minced garlic, pepper, chili powder, dried parsley, mustard, and Worcestershire sauce. It should have a texture similar to ground meat, if it remains watery, add more ground bread, if it is drier, add another egg.

The "meat" is portioned according to the size required in equal parts and in the form of balls.

Flatten between two plastics to form hamburgers.

Place the hamburgers in a frying pan with oil and cook for 3 minutes each side.

Before removing, place the cheeses on the hamburgers so that the heat from them melts them.
To assemble the hamburger
The onion is cut into very thin slices and fry in a frying pan with 4 tablespoons of oil; Cover so that the onion is sweaty and soft.
Later, add the BBQ sauce and the tbsp. of sugar. It is cooked for 10 minutes on a low flame trying not to burn or dry out, its flavor should be a bit bittersweet. It is withdrawn and reserved.
At the base and top of the buns add mayonnaise and mustard to your preference.
The lettuce is placed in pieces followed by the melted hamburger with the cheeses. Top the caramelized onion and a slice of tomato.
We recommend serving with some french fries or onion rings.
Los más Vendidos

Regular price

$ 48.00 MXN

Regular price

$ 55.00 MXN

Regular price

$ 55.00 MXN
Obtén grandes promociones
y descuentos
Suscríbete para recibirlos Nest Mart