Chorizo and Cheese Stuffed Potatoes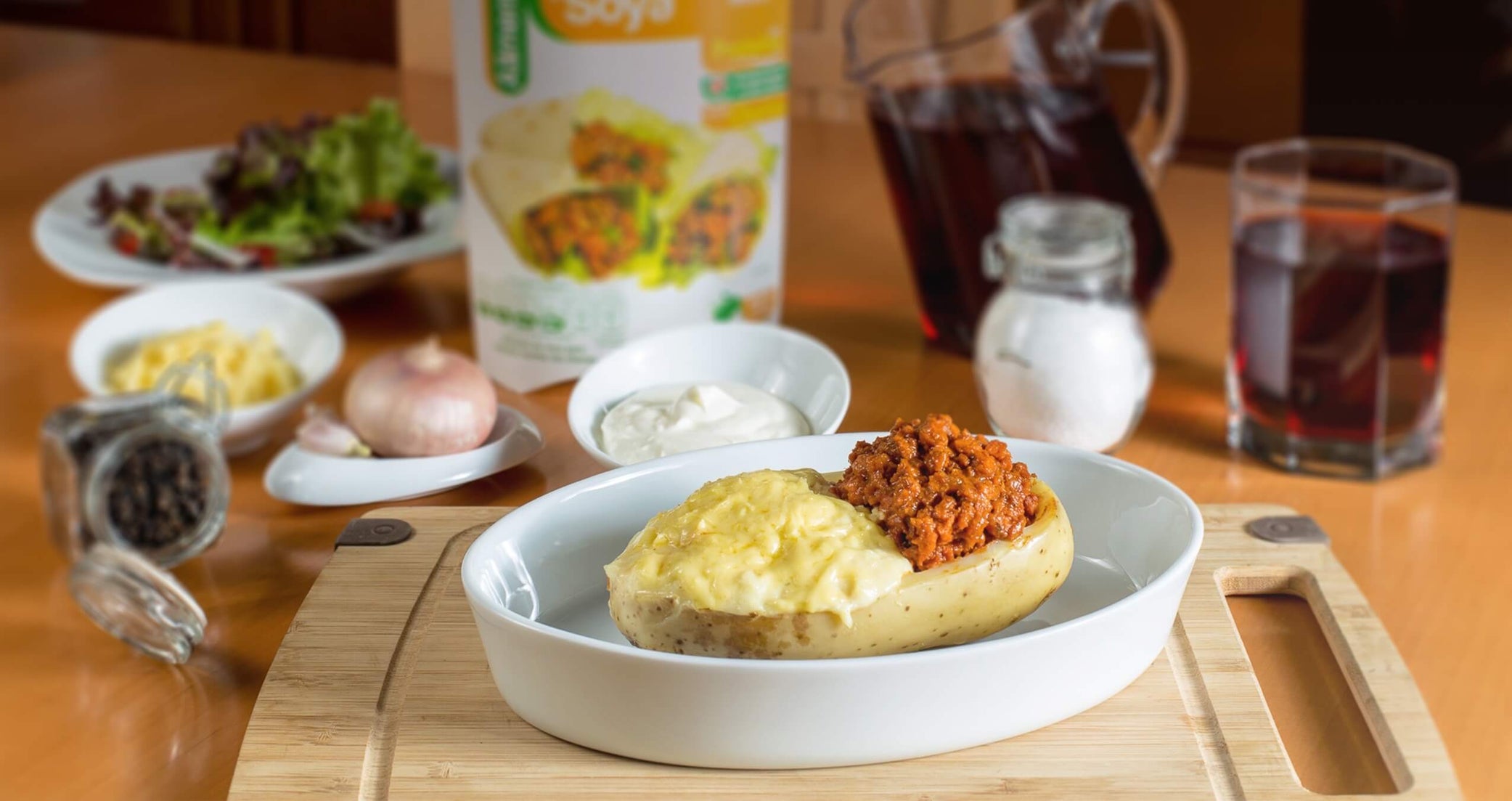 With Soyamigo Chorizo flavor you can prepare delicious recipes such as Chorizo and Cheese Stuffed Potatoes, Longaniza in Morita Chile Sauce, Vegetarian Cake, among other delicious dishes; Check it out and you will not regret it, turn the meal of every day into a Healthy, Healthy and Tasty food for you and your family.
It is necessary to buy the necessary ingredients for the preparation of each dish such as onion, chili, tomato, oil, among others.
---
2 garlic cloves finely chopped
4 long potatoes preferably
150 g of grated Manchego cheese
1 cup of cream
Salt and pepper
Aluminum foil
Preparation
Preheat the oven 180 ° C.
Wash the potatoes and pat them dry.
Cover each potato with salt and pepper; then wrap each one in aluminum foil.
Bake for 70 minutes.
Meanwhile, in a frying pan, with ¼ cup of oil, sauté the garlic and add Soyamigo Chorizo flavor already hydrated (as indicated on the back of the package), taking care not to stick; the fire is extinguished and it is set aside.
The potatoes are removed from the oven and the aluminum foil is removed very carefully, as steam can burn them.
Cut the potato in half and empty the inside with a spoon.
The leftover potato is placed in a saucepan and half the grated cheese and cream are added to it. Over low heat, mix the ingredients until a smooth and consistent texture is left; season with salt and pepper to taste. Proceed to add the Soyamigo Chorizo flavor, finish mixing and remove.
Fill the potatoes with the mixture and cover them with the other half of the grated cheese. Bake just until the cheese is gratin.
Los más Vendidos

Regular price

$ 48.00 MXN

Regular price

$ 55.00 MXN

Regular price

$ 55.00 MXN
Obtén grandes promociones
y descuentos
Suscríbete para recibirlos Nest Mart