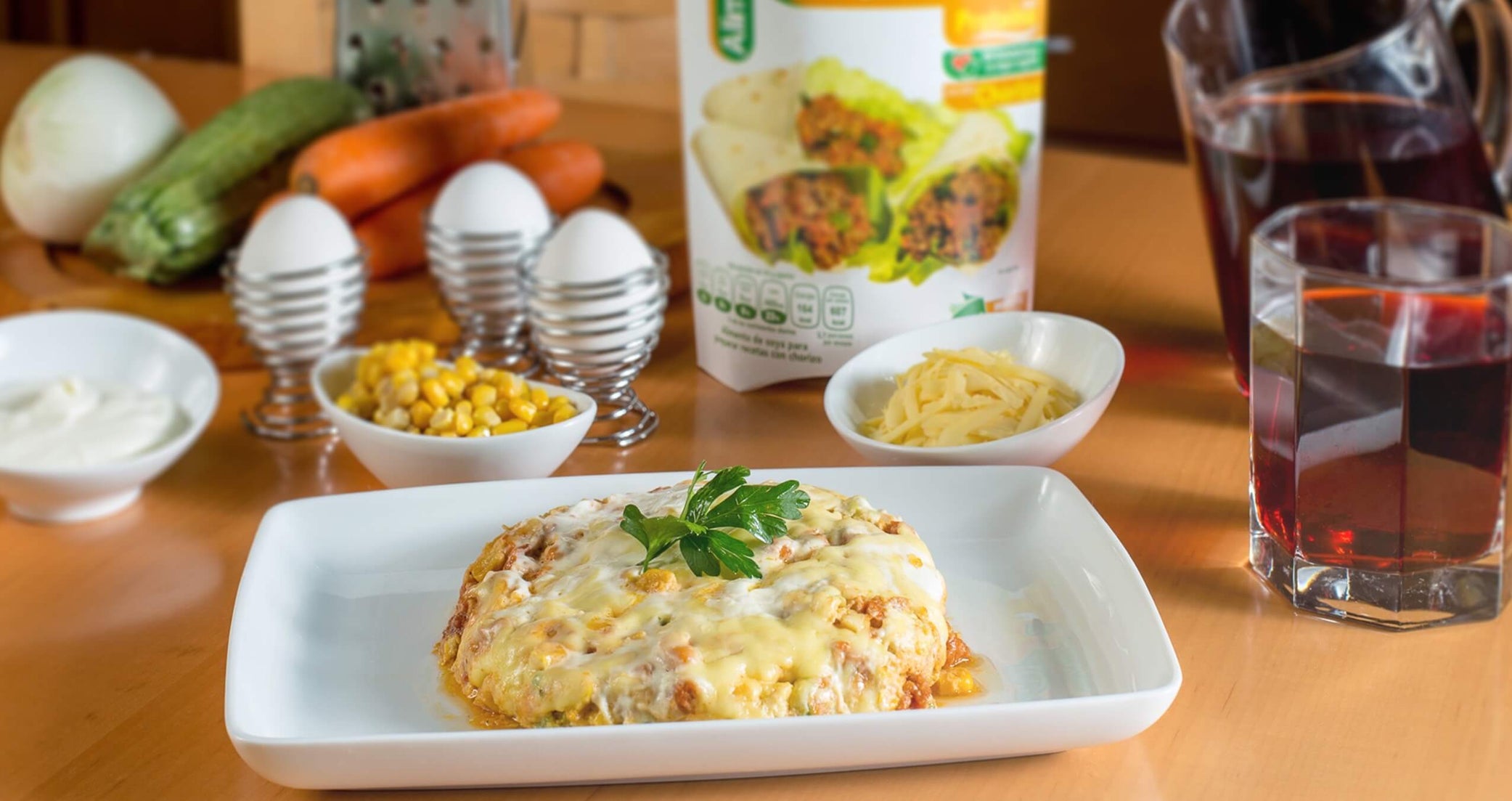 With Soyamigo Chorizo flavor you can prepare delicious recipes such as Vegetarian Cake, Longaniza in Morita Chile Sauce, Chorizo and Cheese Stuffed Potatoes, among other delicious dishes; Check it out and you will not regret it, turn the meal of every day into a Healthy, Healthy and Tasty food for you and your family.
It is necessary to buy the necessary ingredients for the preparation of each dish such as onion, chili, tomato, oil, among others.
---
2 large Italian squash
2 carrots
1 small can of cooked corn
¼ onion finely chopped
2 garlic cloves finely chopped
½ Cup of soybean oil

½ Cup

wheat flour
½ teaspoon baking powder
3 eggs
Salt and pepper
1½ cup cream
1½ Cup of grated Manchego cheese
Butter
 
Preparation
Fry 1 finely chopped garlic in a pan and add Soyamigo Chorizo flavor already hydrated (as indicated on the back of the package). Wrap constantly to prevent sticking.
Wash and dry the vegetables.
Peel the carrot and with a grater peel the other vegetables.
In another pan, fry the chopped onion and then the remaining finely chopped garlic, remove and keep.
Beat 3 eggs and season with half a teaspoon of salt and pepper and add 1 cup of cream, 1 can of cooked corn, ½ cup of wheat flour and ½ teaspoon of baking powder.
Incorporate all the ingredients that are: vegetables, garlic and onion, the egg mixture, Soyamigo's Chorizo flavor and half of the Manchego cheese.
In a baking dish greased with butter and sprinkled with flour, place the mixture and spread evenly over the mold.
Bathe the mixture with a little cream and the other part of the grated Manchego cheese.
Bake over medium heat for 30 minutes.
Los más Vendidos

Regular price

$ 48.00 MXN

Regular price

$ 55.00 MXN

Regular price

$ 55.00 MXN
Obtén grandes promociones
y descuentos
Suscríbete para recibirlos Nest Mart