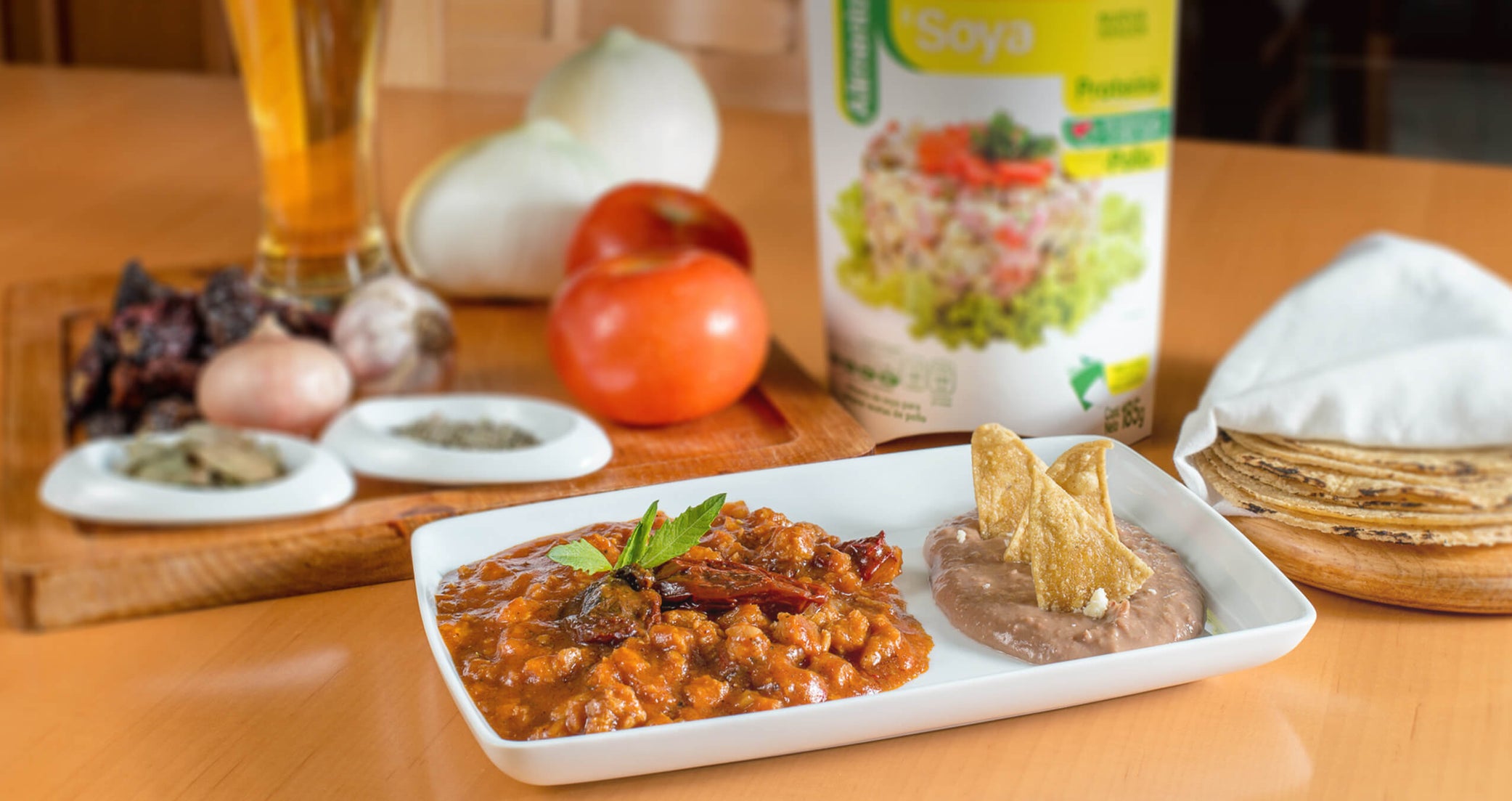 With Soyamigo Chicken flavor you can prepare delicious recipes such as Tinga Poblana, Mole Enchiladas, Chicken with Rajas among other delicious recipes; Check it out and enjoy the great taste, turn every day food into a Healthy, Healthy and Tasty food for you and your family.
It is necessary to buy the necessary ingredients for the preparation of each dish such as onion, chili, tomato, oil, among others.
---
2 cups of tomato puree
1 large onion in half moons
½ Cup of onion finely chopped
2 garlic cloves, finely chopped
2 ground marinated chipotle peppers
1½ water or chicken broth
1 Pinch of aromatic herbs (oregano, thyme and bay leaf)
½ Cup of soybean oil (preferably)
¼ cup vinegar
Salt

Preparation
Put to fry in a frying pan, with ¼ cup of oil, ½ cup of minced onion and a minced garlic clove, until both are transparent. Add Soyamigo hydrated Chicken flavor (as indicated on the back of the package), and fry for 5 minutes over low heat.
In another pan, with

¼ cup oil

, fry the onion in half moons and a clove of garlic, until crisp (approximately 5 minutes), add the tomato puree, the chipotle chili pepper and the aromatic herbs. Bring to a simmer; Add chicken broth or hot water and vinegar; boil for 15 minutes.
Add Soyamigo Seasoned Chicken flavor to the previous mixture and simmer for 10 minutes.
We suggest serving with refried beans and white rice.
Los más Vendidos

Regular price

$ 48.00 MXN

Regular price

$ 55.00 MXN

Regular price

$ 55.00 MXN
Obtén grandes promociones
y descuentos
Suscríbete para recibirlos Nest Mart