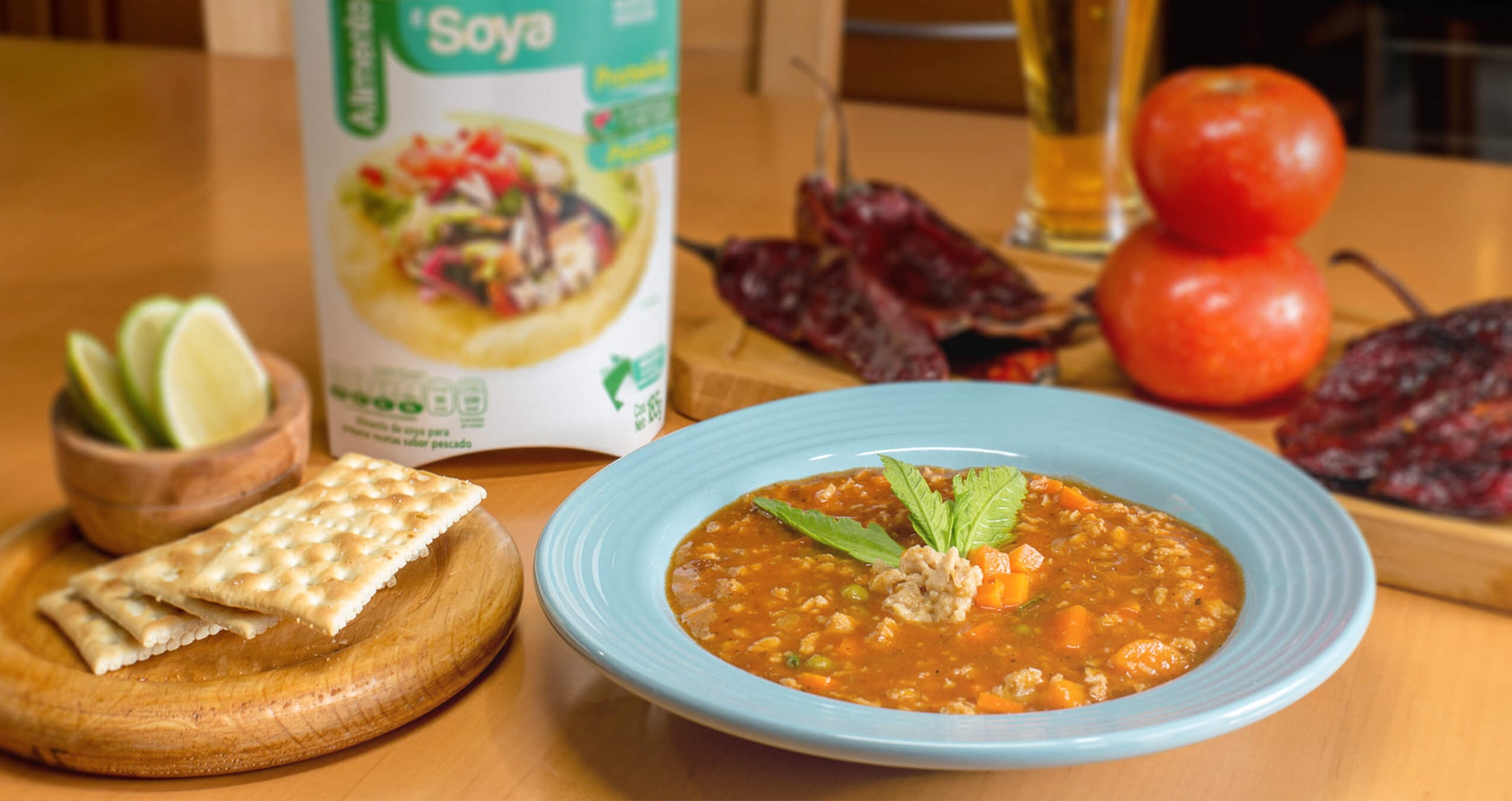 With Soyamigo Fish flavor you can prepare delicious recipes from a Chilpachole, Tuna Shells, Vizcaína Cod among other delicious dishes; Check it out and turn every day meal into a Healthy, Healthy and Tasty food for you and your family.
It is necessary to buy the necessary ingredients for the preparation of each dish such as onion, chili, tomato, oil, among others.
---
3 ancho chili peppers
3 guajillo peppers
2 cloves of garlic
1 Potato cooked and cubed
½ Onion cubed
¼ Cup of carrot cooked and cubed
¼ cup of cooked and diced green beans
1 chopped onion
3 sprigs of epazote
2 Tomatoes
¼ cup soybean oil (preferably)
1 L of water (4 cups)
Salt
Lemons
Shrimp concentrate

Preparation
Hydrate Soyamigo Fish flavor as indicated on the back of the package.
Fry in a pot, with ¼ cup of oil, half of the chopped onion until transparent, add Soyamigo Fish flavor, cook over low heat for 5 minutes. Stir (gently wrapping) to prevent sticking.
In a comal roast the tomatoes, garlic, chilies and the other half of the onion. Once roasted, blend all the ingredients with 1 cup of water and salt to taste to obtain a sauce.
Strain the sauce and pour it into the pot containing Soyamigo Fish flavor. Add 1 liter of water, the vegetables, the epazote. Season with salt or shrimp concentrate, simmer for 5 minutes, and remove from heat.
We suggest serving the Chilpachole in a deep plate and accompanying it with crackers and lemon to taste.
Los más Vendidos

Regular price

$ 48.00 MXN

Regular price

$ 55.00 MXN

Regular price

$ 55.00 MXN
Obtén grandes promociones
y descuentos
Suscríbete para recibirlos Nest Mart