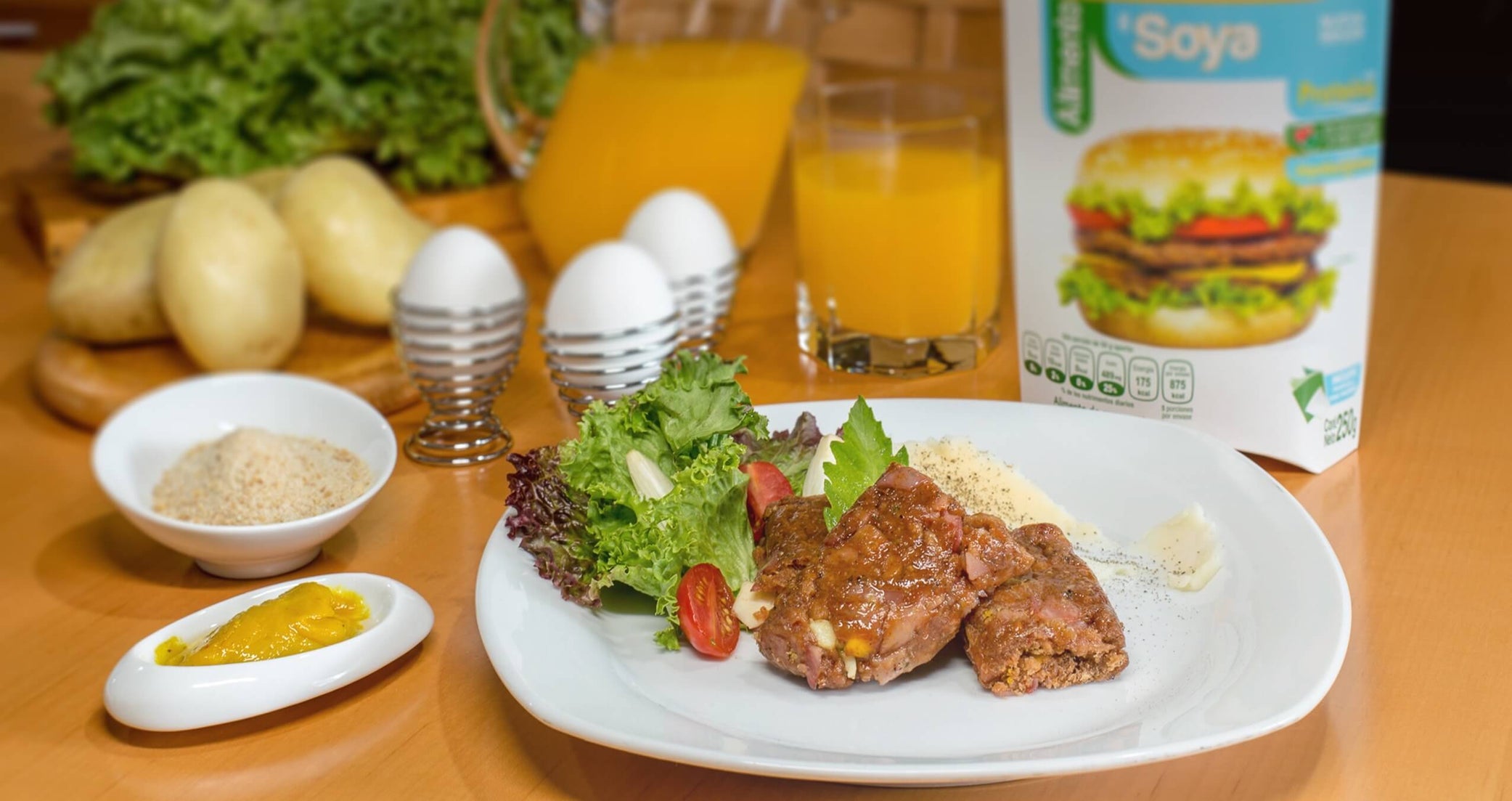 With Soyamigo Burger flavor you can prepare delicious recipes such as a Viennese Asado, a BBQ Burger, some Chipotle Meatballs, among other delicious dishes; turn the meal of every day into a healthy, healthy and tasty food for you and your family.
It is necessary to buy the necessary ingredients for the preparation of each dish such as onion, chili, tomato, oil, among others.
---
1 Cup of onion finely chopped
1 garlic clove finely chopped
1 cup of ground bread
1 tablespoon mustard
1 raw egg
4 Eggs, cooked and peeled
100 g of chopped ham
50 g of bacon fried and chopped
Aluminum foil
Preparation
In a container, pour the Soyamigo Hamburger hydrated flavor (as indicated on the back of the package), and add the chopped onion, garlic, raw egg, mustard, ham, bacon and bread crumbs.
Mix the ingredients and knead by hand until fully incorporated.
Spread the previous mixture, on the aluminum foil in the shape of a rectangle.
Place in the center, the 4 cooked and peeled eggs aligned along the rectangle.
Roll in foil into a "taco". Fold the ends of the roll and squeeze slightly so that the foil closes tightly.
Place a grill and a sufficient amount of water in the pressure cooker so that it does not overflow the grill. Place the formed roll there and cook for 5 minutes (after pressure rises).
It is suggested to serve in slices accompanied with apple or potato puree.
Los más Vendidos

Regular price

$ 48.00 MXN

Regular price

$ 55.00 MXN

Regular price

$ 55.00 MXN
Obtén grandes promociones
y descuentos
Suscríbete para recibirlos Nest Mart