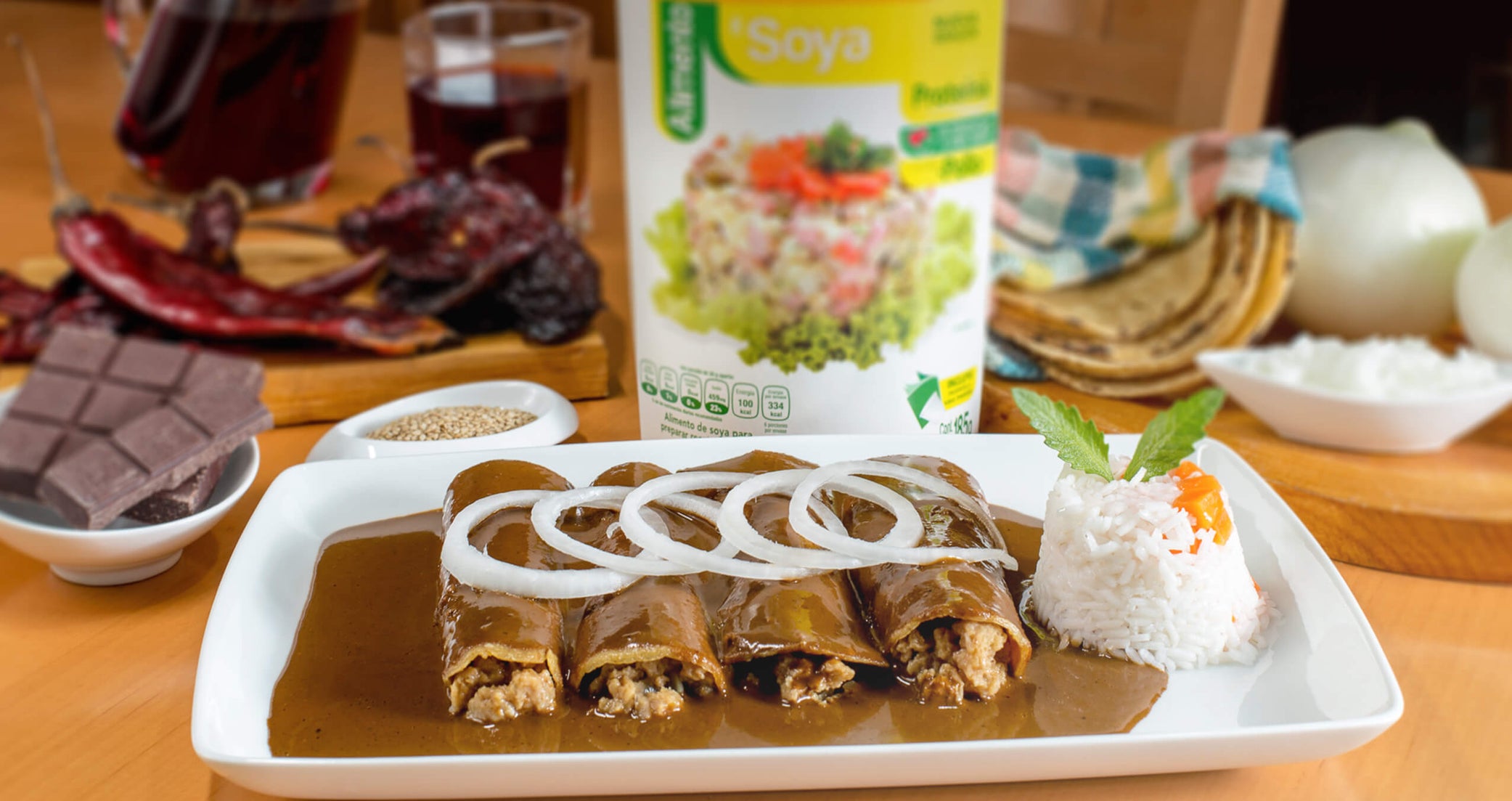 With Soyamigo Chicken flavor you can prepare delicious recipes such as Enchiladas de Mole Poblano, Tinga Poblana, Chicken with Rajas among other delicious recipes; Check it out and enjoy the great taste, turn every day food into a Healthy, Healthy and Tasty food for you and your family.
It is necessary to buy the necessary ingredients for the preparation of each dish such as onion, chili, tomato, oil, among others.
---
25 corn tortillas
¼ Kg of mole poblano paste
½ Onion cut into thin slices
1 Cup of onion finely chopped
2 garlic cloves finely chopped
½ Cup of soybean oil (preferably)
1 Cup of chicken broth
¼ chocolate bar (optional)
Sesame
Preparation
Fry in a frying pan, with ¼ cup of oil, ½ cup of chopped onion along with a minced garlic clove until both are transparent (fry). Add Soyamigo Chicken flavor already hydrated (as mentioned on the back of the package) and simmer for 5 minutes.
Fry in another pan, with ¼ cup of oil, the other 

½ cup onion

minced with a clove of garlic, until crisp (approx. 10 minutes). Add the mole poblano pasta and a cup of chicken broth; If the mole notes spicy, add a chocolate bar according to your palate and a pinch of sugar. Cook over low heat for 15 to 20 minutes. From the moment it boils. The mole sauce should not be too thick to coat the enchiladas, if it is, dilute it with a little hot water or chicken broth.
Put a comal on the fire and add a "splash" of oil. Heat the tortillas on both sides, until they are soft.
Prepare the tortillas by filling them with the Soyamigo Stew Chicken flavor and bathe them with the hot mole sauce, garnish with a handful of sesame and the onion rings.
We suggest serving with white rice.
Los más Vendidos

Regular price

$ 48.00 MXN

Regular price

$ 55.00 MXN

Regular price

$ 55.00 MXN
Obtén grandes promociones
y descuentos
Suscríbete para recibirlos Nest Mart