Longaniza in Morita Chile Sauce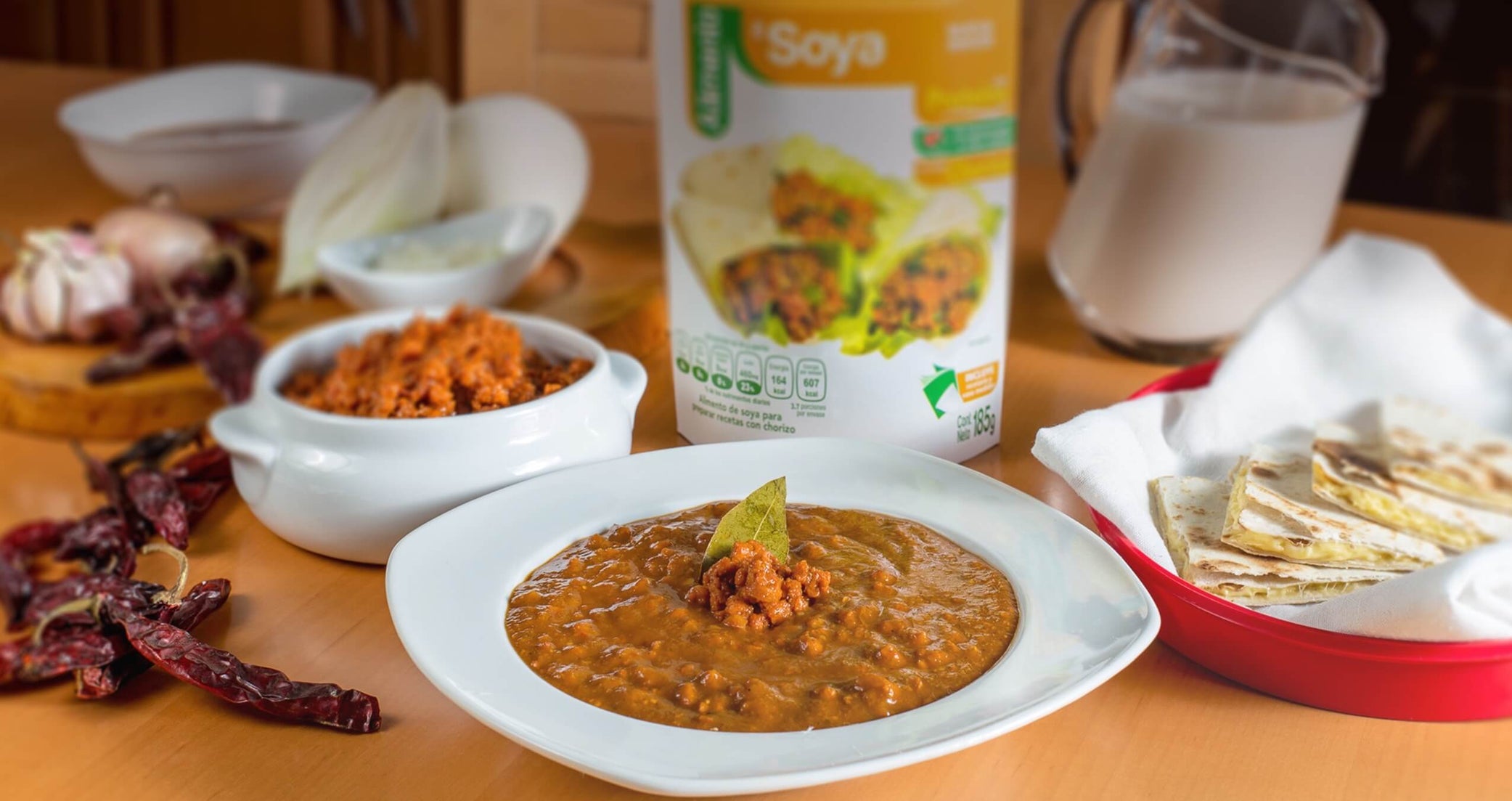 With Soyamigo Chorizo flavor you can prepare delicious recipes such as Longaniza in Morita Chile Sauce, Vegetarian Cake, Potatoes Stuffed with Chorizo and Cheese, among other delicious dishes; Check it out and you will not regret it, turn the meal of every day into a Healthy, Healthy and Tasty food for you and your family.
It is necessary to buy the necessary ingredients for the preparation of each dish such as onion, chili, tomato, oil, among others.
---
1 garlic clove finely chopped
1 Cup of onion cubed
¼ Cup of soybean oil (preferably)

sauce
1 clove garlic
¼ onion in pieces
3 morita peppers
½ Kg of roasted green tomato
1 Cup of cooked small beans
¼ Cup of soybean oil (preferably)
Salt
Pepper
Chicken or vegetarian consommé
½ cup of water

Preparation
Fry in a frying pan, with

¼ cup

oil, minced garlic and onion until lightly browned, add the Soyamigo Chorizo flavor already hydrated (as indicated on the back of the package) and cook for 5 minutes, constantly wrapping avoiding sticking.
Preparation of the Sauce: Roast the tomatoes together with the whole garlic, the onion in pieces and the morita chilies. Blend the above by adding ½ cup of water.
Fry the morita sauce in a saucepan with

¼ cup

of oil.
Add the cooked beans with a little broth to the sauce and season the sauce to your liking with salt, pepper and chicken or vegetarian broth. Cook for 5 minutes over low heat.
Finally, add the Soyamigo seasoned chorizo flavor to the morita sauce and cook for 3 more minutes over low heat, stirring so that it does not stick.
Los más Vendidos

Regular price

$ 48.00 MXN

Regular price

$ 55.00 MXN

Regular price

$ 55.00 MXN
Obtén grandes promociones
y descuentos
Suscríbete para recibirlos Nest Mart