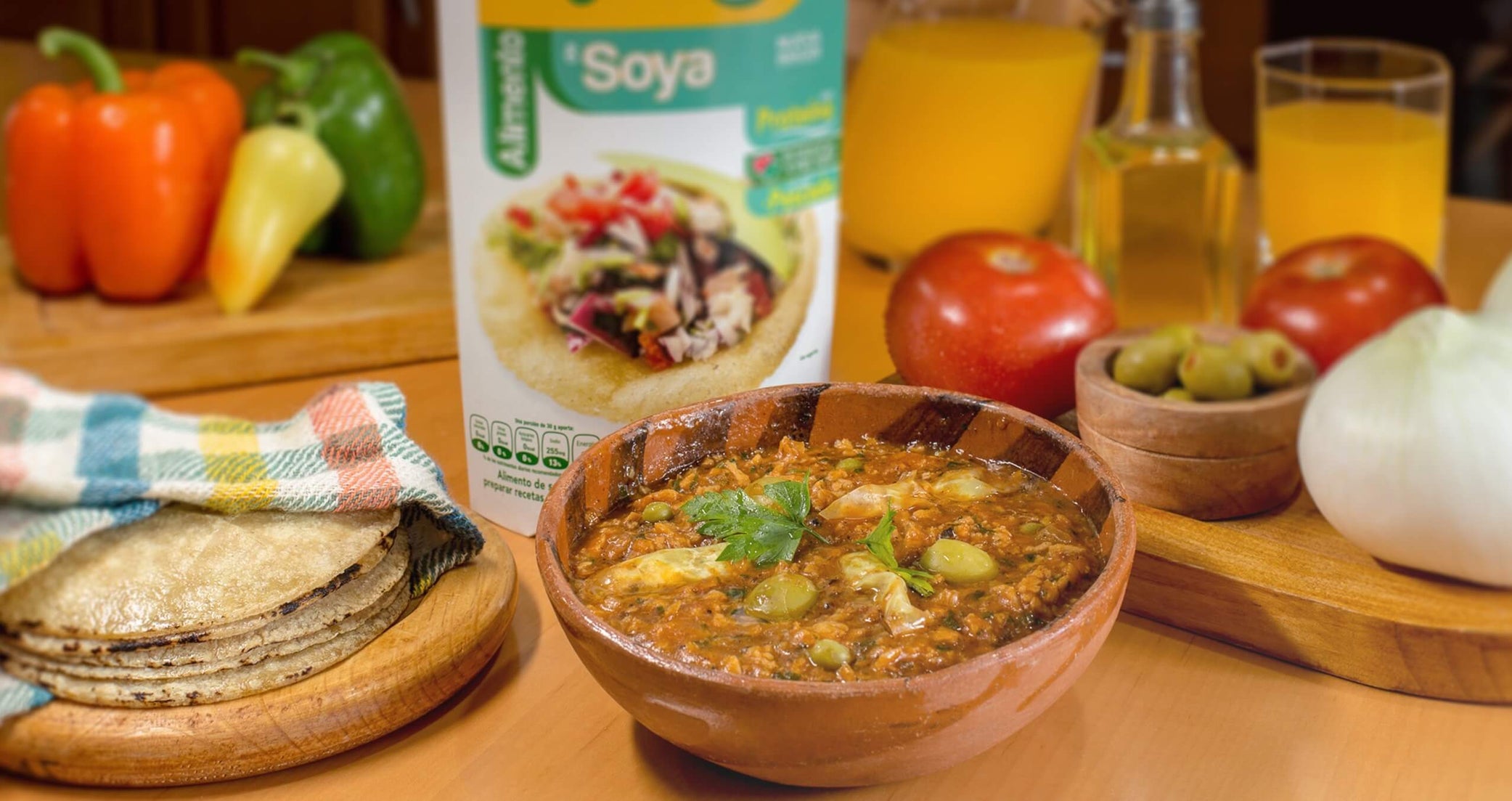 With Soyamigo Fish flavor you can prepare delicious recipes from Vizcaína Cod, Chilpachole and Tuna Shells among other delicious dishes; Check it out and turn every day meal into a Healthy, Healthy and Tasty food for you and your family.
It is necessary to buy the necessary ingredients for the preparation of each dish such as onion, chili, tomato, oil, among others.
---
2 cups tomato puree
½ Cup of chopped tomato
1 Cup of onion finely chopped
2 cloves of garlic

½

cup olive oil
100 g of pitted and chopped olives
100 g of chopped capers
5 güeros or long chilies
1 Small can of red bell pepper
½ cup finely chopped fresh parsley

½ Cup 

of water

Preparation
Fry, with a ¼ cup of olive oil, a clove of garlic and a ½ cup of chopped onion until lightly browned. Add Soyamigo Hydrated Fish flavor (as indicated on the back of the package) cold for 5 minutes, stir (wrapping) to avoid sticking.
In another saucepan, cool ¼ cup of olive oil with a clove of garlic and ½ cup of onion, lightly brown, add the chopped tomato and cook until the tomato turns orange. Add the olives, ground bell pepper, capers, potatoes, tomato puree, and parsley. Sauté for 5 minutes. Season with salt and pepper to taste. If the stew is very thick, add a little water.
Pour the Soyamigo seasoned Fish flavor over the sauce and cook for 5 more minutes, stirring constantly.
We suggest serving and garnish with güero or long chili peppers.
Los más Vendidos

Regular price

$ 48.00 MXN

Regular price

$ 55.00 MXN

Regular price

$ 55.00 MXN
Obtén grandes promociones
y descuentos
Suscríbete para recibirlos Nest Mart