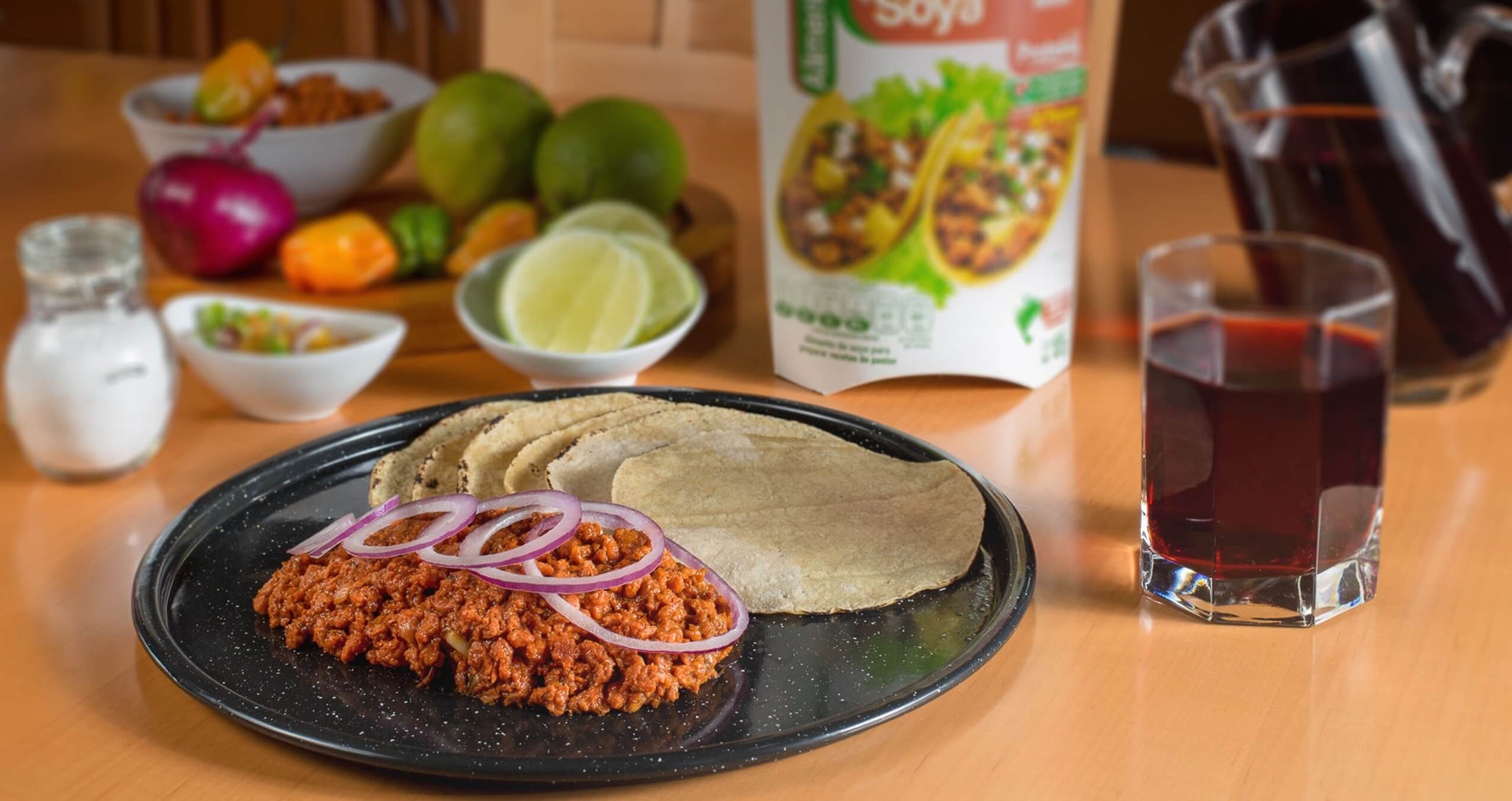 With Soyamigo Pastor flavor you can prepare delicious recipes such as Cochinita Pibil, Southeast style Potato Pancakes, the traditional Taquitos al Pastor, among other dishes; check it out and discover new flavors, turn everyday food into food Healthy, Healthy and Tasty for you and your family.
It is necessary to buy the necessary ingredients for the preparation of each dish such as onion, chili, tomato, oil, among others.
---
 Ingredients:
1 Onion coarsely chopped
1 garlic clove finely chopped
1 whole garlic clove
½ Achiote bar (50 g)
2 cups sour orange juice (or orange with lemon)

¼ Cup

 with vinegar

½

 Cup of water
¾ Cup of soybean oil (preferably)
Oregano
Salt
Bouillon powder
For the habanero pepper sauce:
½ Red onion finely diced
3 habanero peppers

¼ 

by Taza

lemon juice
1 tablespoon vinegar
Salt
preparation:
In a frying pan, fry with

¼ cup

 oil, minced garlic for 2 min. and add the Soyamigo meat flavor to the Pastor already hydrated (as indicated on the back of the package), fry for 5 min., stirring constantly so that it does not stick in the pan.
Separately, blend the chopped onion, a whole garlic clove, the achiote, the sour orange juice and the vinegar; once all the above is blended, pour it into a saucepan and fry it with

½ cup

of oil; Add a pinch of oregano, salt, and bouillon powder. Let this mixture cook over low heat for 10 min., If you notice that it thickens, add 

½ cup

 of water or sour orange juice.
Once this sauce is cooked, combine it with the fried Soyamigo Carne al Pastor flavor and cook for 5 min. Turn off the heat and let the stew rest for 15 min. before consuming it.
Habanero pepper sauce: Dice the habanero peppers and mix with ½ diced red onion,

¼ cup

with lemon juice, a tablespoon of vinegar and a pinch of salt.
We suggest garnishing the stew with purple onion half moons.
Los más Vendidos

Regular price

$ 48.00 MXN

Regular price

$ 55.00 MXN

Regular price

$ 55.00 MXN
Obtén grandes promociones
y descuentos
Suscríbete para recibirlos Nest Mart